CIRCLE OF THE FREE SPIRIT
was founded in 1992 as a spiritual and cultural association.

As a spiritual association we seek Wisdom - Sophia - wherever She may be found. As such we openly draw from Buddhism, Vedanta, Gnosticism and other traditions, with roots in pre-Nicene Christian apostolic lineages.
As a cultural association we advocate a cosmopolitan libertarian society where spiritual and cultural traditions and personal lifestyles may be practiced side-by-side in peace and friendship.

As individuals and friends we are inspired by -- and express ourselves in -- a variety of art forms. In addition to official Circle events, relevant arts events will be posted below.
INSIGHT OUT
We are proud to announce that Circle of the Free Spirit, and events listed below on this page, are sponsored by INSIGHT OUT, a 501 (c)(3) non-profit, tax-exempt organization.
To find out more about these programs and INSIGHT OUT, please contact:
Circle of the Free Spirit, Box 230316 Ansonia Station, New York, NY 10023
Tel: 917-680-6191
MarkAelredCFS@aol.com
OR: INSIGHT OUT, c/o Osamu Uehara, 55 East 190th Street, # 46, The Bronx, NY 10468
OsamuUeharaFDT@aol.com
2012: JUNE 10
2012: FEBRUARY 11 & 12
ALADDIN
MARCH 5, 2011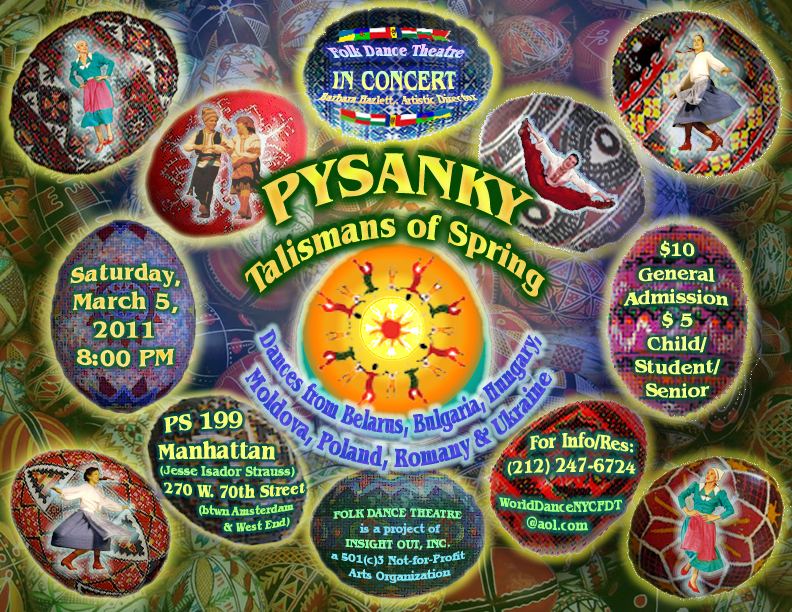 FOR IMMEDIATE RELEASE
For Press Information Contact:

Barbara Hazlett, Artistic Director
(212)-247-6724
WorldDanceNYCFDT@aol.com
Osamu Uehara, Managing Director
(917)-324-8226
OsamuUeharaFDT@aol.com

Folk Dance Theatre IN CONCERT presents:

PYSANKY
Talismans of Spring

Dances from Belarus, Bulgaria, Hungary,
Moldova, Poland, Romany and Ukraine

Saturday, March 5, 2011 at 8PM
Jesse Isador Strauss School (Manhattan PS 199)
270 W. 70th Street, New York, NY 10023

$10 General Admission
$ 5 discounted tickets for Children, Students and Seniors

For Reservations and Information: (212)-247-6724 or WorldDanceNYCFDT@aol.com

Folk Dance Theatre performs a delightful concert on the theme of Pysanky and other symbols of Spring. The programme of colorful dances and costumes from Belarus, Bulgaria, Hungary, Moldova, Poland, Romany & Ukraine is suitable for both adults and children, promising to be both entertaining and educational, while promoting multi-cultural awareness and unity

The Pysanka, (also known as Pisanka, Pisanica, Impistrite, Pisano yaytse, Jejka pisac', Kraslice, Kraslica, Hímestojás, or Margutis among the cultures of Eastern Europe) is the intricately decorated egg of Ukraine associated with Eastern Orthodox and Catholic Easter. From the word, 'pysaty' to write, these decorated eggs date back to the Trypilljan culture in Ukraine in 3000 BC. Like the ancient cultures Egypt, Persia and India, the new year was celebrated in March around the vernal equinox, when the earth was likened to an hatching Egg from which new life miraculously emerges. In addition to celebrations with music, dancing and feasting; Pysanky and other talismans are made and exchanged to bring good fortune, health, abundance, and protection from evil spirits, danger and misfortunes in the coming year.

Tickets are $10 General Admission, with recession buster discounts at $5 for children and seniors, and students of any age or discipline with their ID, Classcard, tuition receipt or other evidence. For Reservations and Information: (212)-247-6724 or WorldDanceNYCFDT@aol.com

Established in 1974, Folk Dance Theatre is a chamber ensemble with a repertory of international dances. Artistic Director, Barbara Hazlett has modeled the company after the Moiseyev Dance Company: presenting a variety of national styles rather than specializing in the folkloric idiom of a single country. Dancers are ballet trained, but have studied folk dance with native teachers. The choreography is drawn from authentic sources but is presented as theatrical rather than social dance form.


PAST EVENTS:
FEBRUARY 7, 2009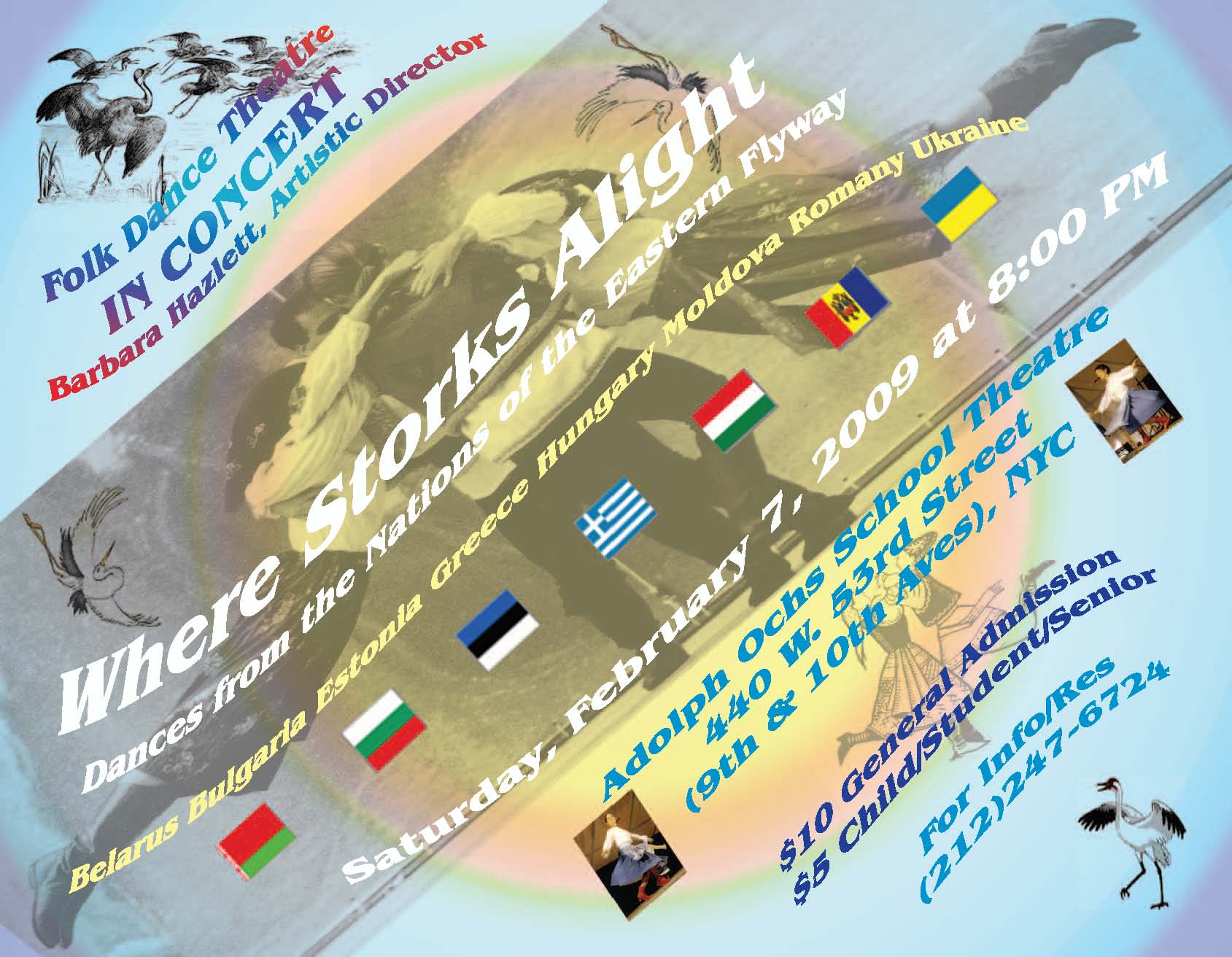 *********************
SPRING 2008 CALENDAR
PERFORMING ARTS: MAY & JUNE
"THREE"
May 30 & 31 at 8 PM
June 1 at 3 PM
Organized by Cindy Bernier and Bernier Dance, and featuring the modern dance performances of Bernier Dance, Daniela Hoff Dance Company, and Vissi Dance Theater.
Our own Osamu Uehara and friends in Bernier Dance will perform their moving four-part "Notes from the Dead" - a dramatic and moving piece addressing the futility of the cycle of war and violence. The women of Bernier Dance will perform "Myth in Pink", a satiric look the the stereotypes that form our image of the custom of marriage and the bride.
Clark Studio Theater, Samuel B. and David Rose Building, 70 Lincoln Center Plaza, New York City
Tickets: $20, Students/Seniors $15
212-868-4444
Directions and Program Information:
www.bernierdance.org
+++
"The Sleeping Beauty"
Sunday, June 8, at 2:30 PM
Tchaikovsky's beloved ballet choreographed and directed by Osamu Uehara, with performances by the adults of The American Ballet Russe and the students of the Great Neck School of Dance. The performers include Mark as Court Chamberlain Catalabutte. Karina as the Lilac Fairy, John and Marcia as the King and Queen, Simon as the wicked fairy Carabosse, and Raoul and Roberta as Prince Desire and Princess Aurora.
Although well-known as a fairy tale, The Sleeping Beauty can be experienced as a thinly disguised retelling of the myth of the fall (sleep) and rescue (awakening) of Sophia, the World Soul and Goddess of Wisdom. In the tradition of Dostoyevsky and Russian Sophiologists, its theme is that the world is saved by Love and Beauty.
Great Neck South High School
341 Lakeville Road, Great Neck, Long Island
(35 minute LIRR ride from Penn Station, Manhattan, then a cab from Great Neck station)
General ADmission $20
Info and tickets: 516-466-3515
+++
TRIDUUM LITURGY - GOOD FRIDAY - MARCH 21, 2008
The Passion of the Christ
as a Gnostic Revelation

"If thou hadst known how to suffer,
thou wouldest have been able not to suffer.
Learn thou to suffer, and thou shalt be able not to suffer.
What thou knowest not, I myself will teach thee."
("The Hymn and Dance of Jesus" - The Acts of John)
"Whatever happens to another, happens to oneself."
(Oscar Wilde - De Profundis)
Circle of the Free Spirit + Avatar Temple
will gather for a special Triduum Gnostic Liturgy and
A Reading from The Acts of John, including
"The Hymn and Dance of Jesus"
At 7 PM on March 21, 2008
For location and to "RSVP", please respond to
Bishop + Mark Aelred
MarkAelredCFS@aol.com
Notes:
This year's Holy Week week includes is a convergence of significant events to celebrate: March 20th is Maundy or Holy Thursday, the Spring Equinox, and the 15th Anniversary of Bishop Mark's (and the Circle's first) priestly ordination. March 21st is Good Friday and March 22nd is the Easter Vigil. We will celebrate all of them at this gathering.
A Reading from the Acts of John offers us a fresh experience of the passion of Jesus as a revelation of the Mystery of Life. Let us celebrate that Mystery in communion with one another and in the Spirit of "Love one another, as I love you."
******
PERFORMING ARTS - APRIL 12, 2008
Bernier Dance & Peace Action present
ARTISTS FOR PEACE 2008
DANCE - MUSIC - POETRY
David Beck, Bernier Dance, Janis Brenner, Kristina Erikson, tiffany Esteb, Marcus Ray Estrada, Rebecca Hart, Brian Tracy, Doug Wahlberg Band, and Readings from Maxine Hong Kingston's "Veterans of War, Veterans of Peace"
Saturday, April 12, 8 PM
Crystal Theater, Norwalk, Connecticut
(Not far from South Norwalk Metro North Train Station)
Proceeds to benefit Homes for the Brave
and Homeless Shelter for Vets
Tickets $15, $25, $50, $100
SmartTix: 877-238-5596
www.smarttix.com
Directions and Program Information:
www.bernierdance.org

*********************
MINISTRY
Walking the Labyrinth
First Thursdays starting November 1, 2007, each month through June 2008. 6:00 to 9:00 PM.
The Fourth Universalist Society, 160 Central Park West @ 76th Street, New York City (Manhattan).
The Labyrinth is a personal meditative practice for healing and growth, a tool for community building, an agent for global peace, and a metaphor for life.
Led by GEORGE KUHN, Interfaith Minister and Veriditas Trained Labyrinth Facilitator.

Light dinner will be served and childcare provided.
Note: Socks (not bare feet) are required for the Labyrinth.
Contact George Kuhn to confirm and reserve.
*********************
WINTER 2007-2008

FRIDAYS - February 8, February 22, March 7, 2008
GNOSTIC THEORY & PRAXIS
Circle of the Free Spirit + Avatar Temple will meet at the home of Avatar Templar Lucie, starting at 7:00 PM. We will begin to explore the mystical Judaism of the Kabbalah (Qabalah) and its relationship to ancient Christian / Gnostic / Hermetic themes. Modern Gnostic liturgy may also be celebrated. We expect the group to continue into the Spring.
Beginning Study Materials:
Living Gnosis by Tau Malachi (Llewelyn publisher) and

Tree of Sapphires by David Goddard (Weiser publisher)
As we progress, we expect to also make use of other works, including:
Gnosis of the Cosmic Christ by Tau Malachi (Llewelyn publisher)
Works by Paul Foster Case, integrating Kabbalah with Tarot, may be introduced as the course progresses.
Those of you who have studied or practiced Kabbalah are invited to share your knowledge and experience.
After formal group study and practice, around 8:15 PM, all are invited to continue the fellowship informally and share vegetarian food and drink.
RSVP to MarkAelredCFS@aol.com

******
SAT, February 2, 2008:
Candlemas liturgy in Jersey City with our mutual friends in the Alexandrian Gnostic Church, 4:00 PM.For more information, and to RSVP, please contact Michael+ at: mebkieu@verizon.net
******
Monday, January 21, 2008 - Martin Luther King, Jr. Day
YOGA OF THE CHRISTOS: A Universal Gnostic Liturgy
3:00 PM at a private location in Manhattan.
If you are interested in joining us, please contact:
Bishop + Mark Aelred
MarkAelredCFS@aol.com

******
Saturday, December 22, 2007

YOGA OF THE CHRISTOS: A Universal Gnostic Liturgy
In Celebration of the Winter Solstice, Feast of St. Thomas, and the Festival of Christmas
-- The Birth of the Christos in the Silence of the Heart

12:30 PM, Doors open at Noon

All Faiths Chapel
Fourth Universalist Society
Central Park West & 76th Street
Manhattan, New York City

Free - Donation Requested
*********************
Launched: July 7, 2006
Latest update: June 1, 2012